Should additional eligibility criteria for directors be considered?

One of the hot topics of discussion in the corporate world at the moment is illegal phoenix activity.

The recent government and regulatory body focus on illegal phoenix activity and measures implemented to combat this has been welcomed by the business community and insolvency practitioners alike.

One of the proposed measures to better identify illegal phoenix activity is the introduction of Director Identification Numbers (DINs) to track directors engaged in illegal phoenix activity. 


Currently, there are no checks on director details recorded with the Australian Securities and Investments Commission (ASIC) and there have been instances identified of fictitious directors being recorded, or multiple variations of the same person's name being recorded. This lack of proper validation gives those individuals inclined to circumvent the law, opportunity to do so.

Leaving aside directors involved in breaching director duties and illegal phoenix activity, what about directors who do not have the business skills to manage businesses effectively?

To be a company director in Australia, the only criteria is that a person must be at least 18 years of age and consents to taking on director role and responsibilities. But do all directors in the SME space understand their responsibilities as a director?

Based on my and my fellow Worrells partners' experience, the answer is no. It is clear from handling many insolvency administrations over the years that a large proportion of directors who do not understand the following key business principles.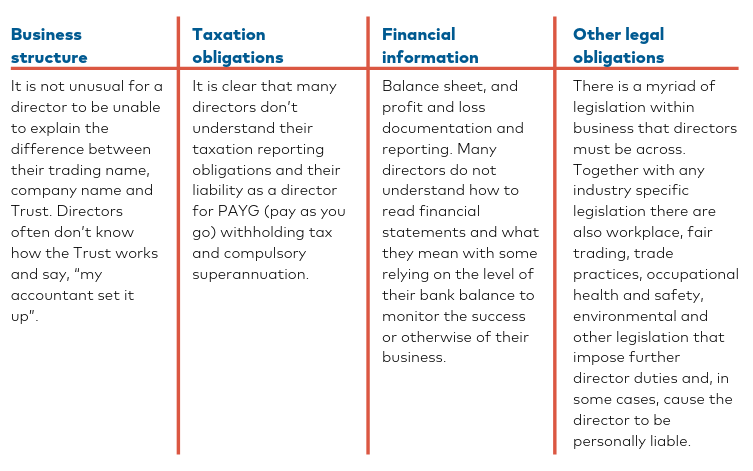 Obviously, there are courses available for directors, however, these are mostly targeted at people with an existing level of business acumen and competency.

The focus in Australia appears to be on those directors at the "big end of town" who are engaged in illegal activities rather than there being any penalty as a result of incompetence. Yes, the Corporations Act 2001 provisions give ASIC the power to ban a director, however I was interested to find the UK holds a much tougher stance against non-performing directors than Australia. The UK has specific legislation (Directors Disqualification Act 1986) to directly deal with the disqualification of company directors.

So, what is the solution for Australia?

I believe that DINs are a good start, as are education programs, but these in addition to the implementation of more comprehensive eligibility criteria—beyond age and consent—will have the greatest effect for positive change in this area of business.

To discuss this topic or any other questions you might have, please contact your local partner for a confidential, obligation-free chat.

Related articles:

Combatting Illegal Phoenixing Bill reintroduced into parliament

Directors required to sign up for identification numbers

ATO Hotline: another measure to prevent illegal phoenix activity